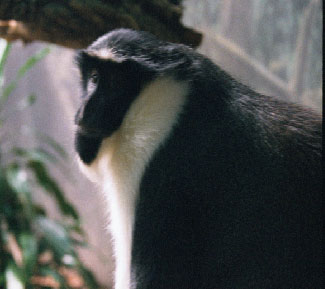 REFERENCES:
Burton, Frances. 1995. The Multimedia Guide to the Non-human Primates. Prentice-Hall Canada Inc.

Byrne, R.W., Conning, A.M., and Young, J. 1983. Social Relationships in a Captive Group of Diana Monkeys (Cercopithecus diana). Primates, Vol. 24, 360-370.

Cords, M. 1987. Forest Guenons and Patas Monkeys: Male-Male Competition in One-Male Groups. In Primate Societies. Eds. B.B. Smuts, D.L. Cheney, R.M. Seyfarth, R.W. Wrangham, and T.T. Struhsaker. University of Chicago Press.

Estes, R.D. 1991. The Behavior Guide to African Mammals. University of California Press.

Fleagle, John G. 1988. Primate Adaptation and Evolution. Academic Press.