Mongoose Lemur (Eulemur mongoz)
MORPHOLOGY:
The average body mass is around 2 kilograms. This species is sexually dimorphic, the males are gray-bodied having red fur along the side of body and face. The female's body is a darker shade of gray having white fur along the side of body and face. This species, like all true lemurs has binocular vision, but not as developed as in other primates. The nose, like true lemurs, ends in a rhinarium used in olfactory communication.

RANGE:
They are found on the Comoro Islands and in the West of Madagascar.
ECOLOGY:
This species primarily subsists upon nectar, but it also eats leaves, flowers, and fruits.

LOCOMOTION:
This species moves quadrupedally through the trees, but is capable of leaping.

SOCIAL BEHAVIOR:
The basic group is composed of parents and their offspring of up to 4 individuals. The mongoose lemur is a cathemeral species, meaning its activity changes from day to night based on the season (Fleagle, 1988).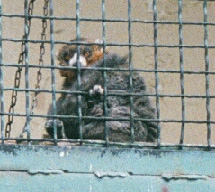 VOCAL COMMUNICATION:
infant contact calls: these consist of an "oom" sound.

mother contact calls: these, as opposed to infants, sound like a snort.

alarm calls: these calls start as grunts, but with duration turn into high-pitched "cree"-like sound.

OLFACTORY COMMUNICATION:
Like all of the true lemurs, olfactory communication is important to this species. It is used to present physical state, territoriality, and position.
VISUAL COMMUNICATION:

TACTILE COMMUNICATION:

REPRODUCTION:
This species gives birth to a single offspring.

REFERENCES:
Burton, F. 1995. The Multimedia Guide to the Non-human Primates. Prentice-Hall Canada Inc.

Fleagle, J. G. 1988. Primate Adaptation and Evolution. Academic Press.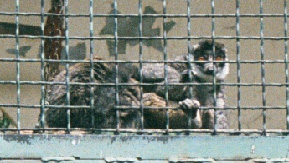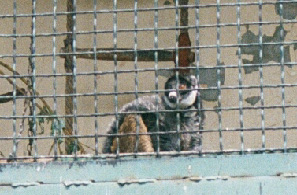 Last Updated: October 7, 2003.


[The Primata] [Primate Fact Sheets] [Family Lemuridae] [Eulemur Links]