Red-bellied Lemur (Eulemur rubriventer)
MORPHOLOGY:
The hind limbs are longer than the forelimbs. They have the binocular vision and rhinarium typical of true lemurs. This species is sexually dimorphic. The males abdominal fur is reddish and in the females it is white.

RANGE:
This species is found in Madagascar, in the canopy of the rainforests.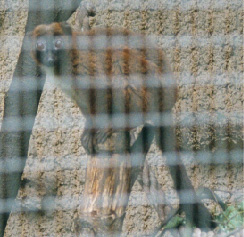 ECOLOGY:

LOCOMOTION:

SOCIAL BEHAVIOR:
This is a monogamous species, with the pair forming and its offspring forming the basis of the social group.

VOCAL COMMUNICATION:
two-phase alarm call: a special alarm call that differs from the normal one which resembles that of the alarm calls of E. fulvus.
OLFACTORY COMMUNICATION:
Olfactory communication is important for the red-bellied lemur as it is for other true lemurs and other prosimians. It is used for territory marking and communicating physical state and position.

VISUAL COMMUNICATION:

TACTILE COMMUNICATION:

REPRODUCTION:

REFERENCES:
Burton, F. 1995. The Multimedia Guide to the Non-human Primates. Prentice-Hall Canada Inc.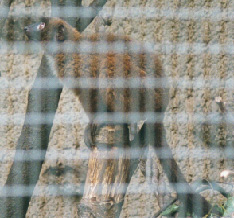 Last Updated: May 5, 2004.


[The Primata] [Primate Fact Sheets] [Family Lemuridae] [Eulemur Links]